Those of you who follow the personal life of the muse know I have traveled for the last 12 or 13 years to the northern reaches of Minnesota to a resort (Cedar Rapids Lodge) on the shores of Medicine Lake. Medicine Lake is an under-fished haven for Walleye and Northern Pike. For many years now the lake has been under a DNR program that requires fisherman to return Pike that are longer than 22 inches and shorter than 32 inches back to the lake. The end result has been a significant growth in the size of the fish on the lake. These days it is pretty rare to go fishing for pike for more than an hour without hauling in a 28 or 30 incher.
This year the DNR raised the slot to between 26 and 36 inches because the size of the fish has become significantly larger. The fishing and the weather this year were spectacular. The lodge and cabins were in great shape, the wind was moderate and the evenings were cool. All in all I would rate this as one of the best weeks of Muse fishing ever. If you don't believe me just take a look at this 34 inch trophy that took my line last Friday.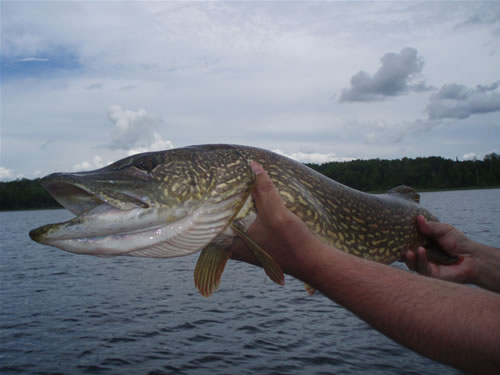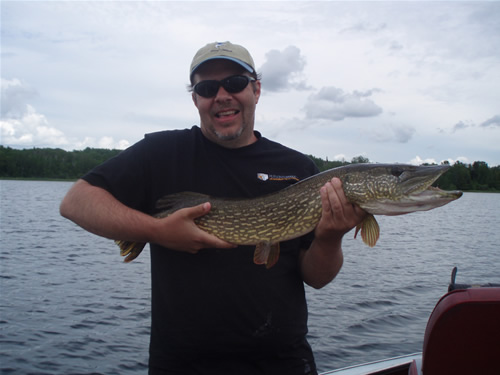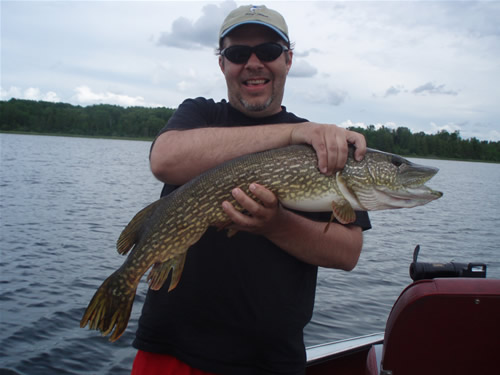 Pay no attention to the unshaven ecstatic looking fellow holding the fish - that is merely for effect. For those of you with a bug for fishing, I recommend you call Steve or Pat Adler at CR Lodge and book a trip. You won't be sorry - and we can swap photos.