As a part of our effort to build camaraderie among the team we put our heads together and thought of a group activity. Naturally the first thing we thought of was to equip the whole team with guns and send them out into the woods to shoot at each other. Here's a small sample of our CFWT team and friends in full battle regalia at Mad Cow Paintball.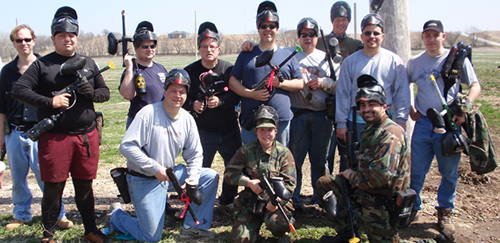 From left to right is Christian Marvin, Chet Lovegren, jQuery aficionado Chris Tierney, Director of Development Jason Herbolsheimer (on one knee), Sales Director Curt Lovegren (Chet's father), Me (large and blue in the middle), My lovely wife Ann in her camouflage in front of me, CF Guru Wil Genovese, Nate Kuester, Jake Churchill, John (Nate's friend who's last name escapes me) and Ryan Stille.
It was a great time and we are looking forward to doing it again sometime soon (in between rounds of golf I suspect).